NAD+ is an essential molecule that plays a central role in maintaining cellular health.
It is needed for critical processes in the body, including energy metabolism, DNA repair, and the cell's response to stress.
NAD+ levels are dynamic, with its overall concentration determined by the balance between its synthesis and breakdown.
Many diseases and biological stressors disrupt NAD+ metabolism and are associated with low levels of NAD+, such as obesity, infection, alcohol consumption, and high blood pressure.
"In 2019, 53.8% of adults aged 18─34 years had at least one chronic condition, and 22.3% had more than one condition." (1)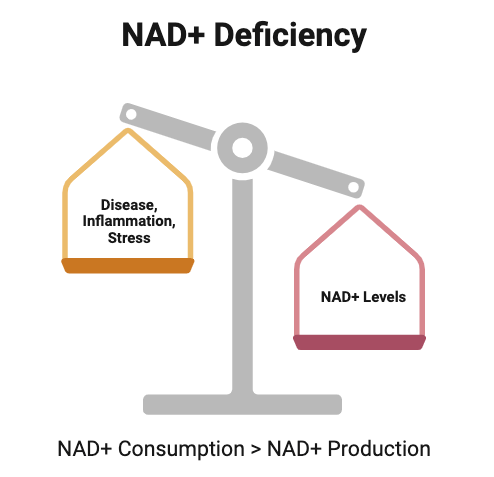 Recent research suggests that replenishing NAD+ stores may be a promising therapeutic strategy for these conditions.

Key Points
NAD+ levels decreased by 44% in patients with high blood pressure
NR increased NAD+ levels 2-6 fold in young patients with Ataxia Telangiectasia
Low NAD+ and high CD38 levels are found in several autoimmune diseases
Alcohol consumption has been linked to low NAD+ levels in the CSF and liver
Niacin replenished NAD+ levels in patients with a muscle disease
Overconsumption of fat reduced muscle NAD+ levels in men
Viral infections reduced muscle NAD+ levels in a study
Restoring NAD+ levels in Acute Kidney Injury may be beneficial