Resveratrol is a natural compound found in a variety of plants, including grapes, apples, berries, and some nuts.
It has antioxidant and anti-inflammatory properties that may help counter key drivers in aging and age-related diseases — inflammation and oxidative stress.
Resveratrol has been found to directly engage with at least twenty proteins central to vital cellular processes associated with aging, DNA repair, antioxidant protection, and energy metabolism. (1)
This is likely one of the reasons it has a broad spectrum of potential health benefits across various conditions.
"Among the polyphenolic phytochemicals, resveratrol is believed to reduce the negative effects of the aging process through its multiple biological activities." (2)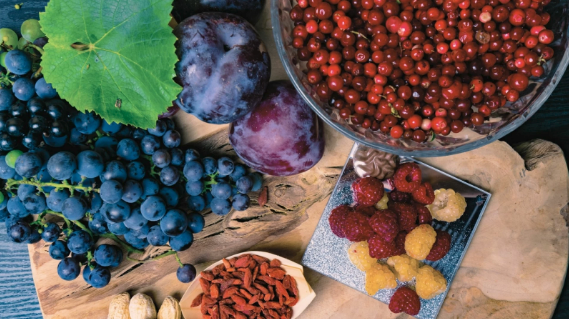 Key Points
Extension of lifespan in 6 species
Shown to target multiple hallmarks of aging
Health effects similar to caloric restriction seen in mice
Improved measures of blood vessel health and function in an analysis of 17 clinical trials
Reduced inflammatory markers in an analysis of 6 studies
Enhanced the cholesterol-lowering effects of diet and exercise in obese individuals
Improved cholesterol, blood pressure, and fasting glucose in an analysis of 21 studies with overweight or obese individuals
Promoted weight loss in an analysis of 28 clinical trials
Improved bone health in a 12 month clinical trial
Enhanced standard therapy for patients with osteoarthritis
Bioavailability is the proportion of a compound that reaches the bloodstream and is transported to the site of action.
It is reported that Resveratrol's bioavailability is less than 1% when taken orally. (18) It undergoes rapid metabolism in the liver and intestines, significantly limiting the amount that actually enters the bloodstream.
Formulations have been developed to enhance the bioavailability of Resveratrol, such as liposomal delivery systems
"Among them, liposomal resveratrol formulations have been proved to have high entrapment efficiency, improve resveratrol stability and biological activity against UV-B-induced oxidative damage, decrease the cytotoxicity of resveratrol at high concentrations and improve the efficiency of resveratrol on the cell-stress response." (19)